Request a call back from Coimbatore Marine College.
Have a Query?
Call Us (9:30 - 6:30) IST
9843155985 , 04222364999
Coimbatore Marine College (CMC) is one of the best maritime Institutes in India situated at Coimbatore.CMC is graded A1 'Outstanding' by Indian Register of Shipping.It is conducting whole range of Pre-Sea, Post-Sea Courses approved by DG Shipping under the Ministry of Shipping. A1 Grading from the Indian Registrar of Shipping is the highest certification being granted by Shipping to maritime training institutes in the country as per stringent norms laid out by the DG Shipping." 
Education Loan offering from Axis Bank Ltd.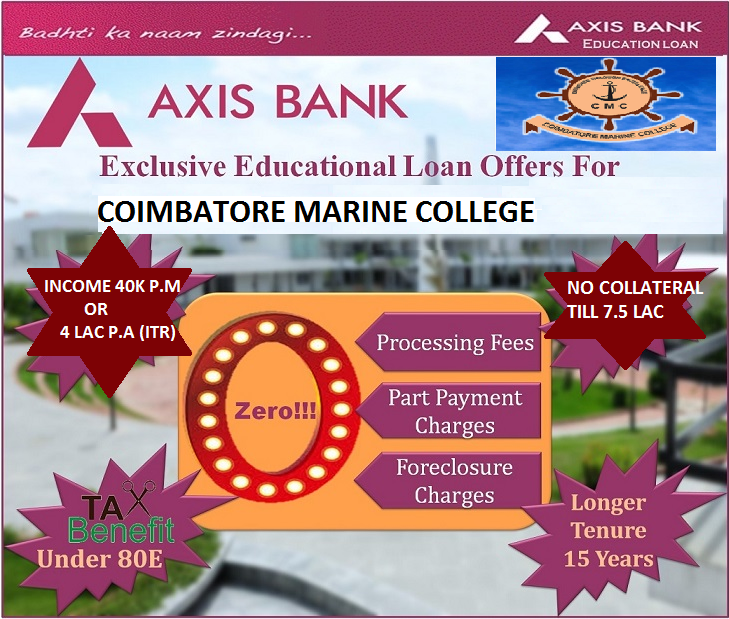 Eligible candidates:
Must be an Indian Citizen

Minimum 10 + 2 qualification with 50% passing marks

Students wishing to opt for further studies in India / Abroad for courses like MS / MBA / MSc etc.,

For Executive Programs to individual/s who wish to pursue higher education to enhance and upgrade their professional experience/exposure.
Eligiblility Criteria:
Co Applicant should be Father,Mother,Brother or Sister.

Minimum Salary should be Rs.40,000/- Monthly Income / ITR should be Rs.4,00,000/- above Yearly Income.

Interest has to be paid during course study period and EMI has to served after the studies.

5% Margin for Domestic and 15% Margin for Overseas studies.

Loan Cover Maxlife Insurance is Mandatory.

Reimbursment of the tution fees is allowed on or before 6 Months.